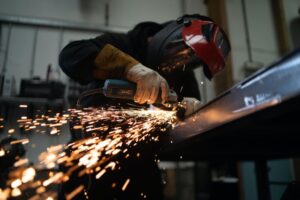 Our hand protection and work glove range are ideal for a wide array of applications (such as welding, packaging, manufacturing, machinery operation and general handling), making them the preferred choice among welders for optimum safety and comfort. Coming in a range of sizes, they provide a snug fit for everyone, allowing for flexible hand motion and coordination.
Check out our best-sellers below:
1. Premium Cow Grain Rigger Gloves
2. Red Kevlar Gloves
3. Latex Foam Glove
4. Safety Gear Black Panther Gloves
Maximise your production safety with welders gloves that are high grade & comfortable. Contact us at (08) 6254 2623 or sales2@packagingrus.com.au to purchase your welding gloves & safety gloves in bulk today.